The club very gratefully acknowledges the support of its sponsors:
Primary Sponsors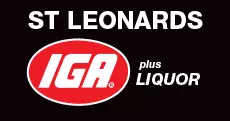 IGA plus Liquor St Leonards — Supporting the locals through the IGA Community Chest. St Leonards fresh, new supermarket offers easy parking and locked down low prices! Shop in town or check out the app and recipes online. Supported by the IGA 200% fresh food guarantee. Website: https://stores.iga.com.au/store/st-leonards-iga.html.


Neville Richards Real Estate — Neville Richards has a proud history of securing outstanding results for our clients. Whether you are selling your home or in need of Property Management, our aim is to make your real estate experience not only successful but enjoyable. Our vast knowledge of Bellarine Peninsula real estate comes from 15 years of solid achievement in the local marketplace. We believe every customer is important and we individually customise a property solution to best suit your needs. Website: www.nevillerichards.com.au.


Bendigo Bank Portarlington and Drysdale — Be part of something bigger at the Portarlington and Drysdale Community Bank branches, here for life's BIG moments. You'd think because we work in a bank it would be the accounts, financial products, interest rates and fees that make us tick. But it's the much bigger and significantly more important things that really matter to us.
It's about helping our customers make the most of a new job, balance good planning with life's little surprises, prepare for life on the greens and not in the office or simply provide a really good place to grow their money until they find their dream home.
Yes, the team at the Portarlington and Drysdale Community Bank branches are great with money — but even better at recognising and helping you through life's BIG moments.
So no matter what you've got going on in your life, Portarlington and Drysdale Community Bank branches can help. We've got all the essentials to make sure you're prepared for life's BIG moments, whatever they may be.
Visit the Portarlington and Drysdale Community Bank branches online, or like us on Facebook.
'Bigger than a bank'.
Club Sponsors
Bellarine Plumbing Services — Plumbing, Gasfitting and Roofing. Contact Brent Locke on 0408 554 043.
Bellarine Springs –Your retirement is a time when you can choose to do less of what you have to and more of what you want to. When you live in a community like Bellarine Springs, you can enjoy a completely independent, active life, free from routine responsibilities. At Bellarine Springs, it's all about your choices. From a selection of 5 different high-quality villa designs to a huge range of social and recreational activities including sports, movies, craft, clubs and boating, you have everything you need to create a home and lifestyle that is uniquely yours. Stage 1 homes have been released! Free call 1800 133 711 or see the website for details: www.bellarinesprings.com.au * 101 Central Road, Drysdale
Bernie Dumont, Painter and Decorator — * Interior and Exterior Work * Free Quotes * Pensioner Discounts. 7 Sylvester Avenue, St Leonards 3223. Mobile 0418 526 866 or Phone 03 5257 1696.
Complete Business Printing — Top quality business printing at very affordable prices. All types of printing (including digital printing in-house that can save you up to 80.95% on what you might pay elsewhere!). Because we "cherry pick" the best value option for you from our range of top quality, trade-only print providers, and because we don't have big overheads, we pass on the savings — meaning you get great pricing and top quality. Website: https://savelotsonprinting.com.
Drysdale Carpet Court — Choosing the right flooring is a crucial decision. After all, it's something you and your family will live with for years to come. Just as important, is who you choose to buy your flooring from. As Australia's largest retail floor covering specialist, Carpet Court takes great pride in its reputation for expertise and advice based on our superior product knowledge. We take the time to sit with you and discuss all your needs. And our informed staff will answer all these questions and more to help you create the perfect flooring solution tailored to your specific needs. Each Carpet Court Store is locally owned and operated which means we go out of our way to give you the best possible value, service and advice. The Carpet Court Group has enormous bulk buying power so rest assured, you'll be getting the very best deal there is. Your satisfaction is our priority. Website: https://www.carpetcourt.com.au/stores/drysdale-carpet-court-drysdale
Drysdale Motors — Your Mechanic in Drysdale — As your local Mechanic, Drysdale Motors take great pride in offering our clients the very best in car servicing and automotive repairs. Conveniently located on 44 Murradoc Road, Drysdale Motors service all car makes and models, including commercial fleet vehicles. Contact us now or book your car service online — see our website: www.drysdalemotors.com.au
Geelong Security Doors & Shower Screens —  Big or small, your home is your ultimate recluse. It is the perfect haven for you and your family to experience peace and solitude. We at Geelong Security Doors can make your home safe and secure so that you feel relaxed at home and when away. Geelong Security Doors and Shower Screens are a proud, local family owned and operated manufacturer of shower screens, security doors, flyscreens and insect screens, sliding wardrobe doors, mirrors and pet doors. We have over 20 years of experience and deliver exceptional results to our customers throughout the Geelong, Bellarine and Surfcoast areas. Website: www.geelongsecuritydoors.com.au
Kings Funeral Services — Michael, Louise and Beth King, and the staff of Kings Funerals and Louise King Funerals by Women are dedicated to providing quality personal and professional funeral care to families within the Geelong community.Our service to the city of Geelong is a continuation of tradition in funeral directing since 1847. Our facilities enable us to provide creative, flexible and highly personalised funeral services which are greatly appreciated by the client families we serve. The funeral service can be the single event to collectively pay tribute in many special ways. We place great importance on this time when friends and family reflect on a life. Louise King Funerals by Women, the only all women's funeral service division in the region, provides a special quality of funeral care that only women can deliver. Website: www.kingsfunerals.com.au
Prestige Jayco Caravans, Geelong — Prestige Jayco offers everything you need to make a caravan and camping holiday great, from the latest caravans, motorhomes and made-to-order awnings to complete camping solutions. Service is where we started, and service is what we want to be known for. Come visit us in Geelong or Bendigo and begin the exciting process of dreaming about where you want to go, and how you want to do it. It's a bonus if you can get there in the streamlined luxury of a Prestige Jayco. The journey begins long before you hit the road. Website: www.prestigejayco.com.au
R. H. Electrics — Robert L. Hinds, Registered Electrical Contractor. 12 Bayside Avenue, St. Leonards VIC 3223. Mobile: 0400 827 980.
St Leonards Fish & Chips — eat in or takeaway, right near the beach. Located at 1387 Murradoc Road, St Leonards. Phone (03) 5257 2286 or see our Google+ page.
St Leonards Hardware — the local, convenient and super-friendly hardware store for all your needs. Ask the local experts. Located at 1371 Murradoc Road, St Leonards. Phone (03) 5257 1151 or see our Google+ page.
St Leonards Hotel — The St Leonards Hotel is renown for its spectacular food, sensational beer garden and breathtaking Port Phillip Bay views and offer beach seekers the comforts of motel-style rooms and accommodation right on the bay. Located at 496 The Esplanade (corner of Murradoc Road), St Leonards. Phone (03) 5257 1408. https://www.stleonardshotel.com.au
SPECIAL STAY AND PLAY PACKAGE: Stay at the St Leonards Hotel (excluding Dec-Feb) and obtain discounted rates: $99 for a Double or $129 for a Family Room and receive a free game golf voucher per room.
Stockdale & Leggo — Victoria's largest real estate group has one of its most successful real estate teams in the magnificent Bellarine Peninsula. Operating from Portarlington our fully trained and experienced staff led by Susan Doubleday and Loretta Sullivan offer personal attention, and are backed by the resources and training of the Stockdale & Leggo group, ensuring that our clients receive the best possible service. Thinking of selling, buying or renting a property in the Bellarine Peninsula? You must talk to the experts at Stockdale & Leggo today. Located at 92B Newcombe Street, Portarlington. Phone (03) 5259 1315. Website: https://www.stockdaleleggo.com.au/portarlington/
Wildings Pantry Essentials — At Wildings Pantry Essentials, we are one of the few producers that still passionately make everything by hand from our kitchen in St Leonards. Come and visit us at our Kitchen Store at Shop 3, 1376 Murradoc Road, St Leonards. Phone 0419 566 638. We are open 7 days from 9am to 4pm. www.wildings.com.au
New club sponsors are always welcome. There are sponsorship opportunities on-course (tee signage), in the clubhouse and club syllabus, and for club events and tournaments. The club also hosts an annual sponsors day in recognition of our club sponsors.
Become A Club Sponsor
For sponsorship enquiries, please use our contact page.