Members and visitors with an accredited golf handicap are welcome to play in any event or regular competitions on Saturdays, Tuesdays and Thursdays.
Remember too our regular Friday night raffles and BBQ where all are welcome!
Annual Good Friday Appeal
Every year the Club runs a special day (from 1pm on Good Friday) at the Club, that galvanizes the town with games, raffles, Easter egg baskets, spinning wheels, events for all ages to raise funds far in excess of similar sized groups and bodies.
This fun and family-friendly event raises funds that are donated to the Royal Children's Hospital Good Friday Appeal.
A full bar service is available during the day. The club has been personally visited by the Appeal Event organisers to say thank for its continuing annual commitment to this good cause.
Download the 2015 Good Friday Appeal Golf Day 3rd April flyer.
2015 Club Syllabus
You are welcome to download our Syllabus (430kb PDF) or click on the image below.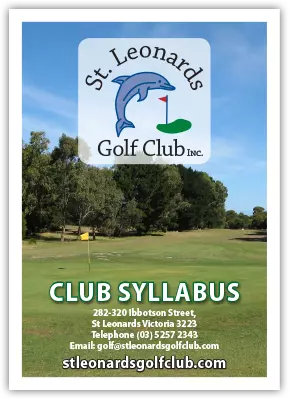 Please note: this is our public version which does not contain member contact information.
2015 Club Syllabus: Important Dates

Good Friday Appeal: Friday 3rd April from 1pm
Mens Club Championship rounds: Saturday 11, 18 and 25 July
President and Captain's Day (Mens): Saturday 12 September
St Leonards Bowl (Ladies): Monday 14 September
Club AGM and elections: Sunday 11 October
2015 St Leonards Open: November 6 (Womens), 7 (Mens), 8 (Mixed)
Portarlington v St Leonards (Ladies): Wednesday 11 November
Ladies Presentation Day: Tuesday 24 November